Elli's story
Elli – an EarlyBird delivery person from Askola
makes extra money as an entrepreneur for EarlyBird.
It is good manners to present oneself. So, I'll start off by presenting myself. I am Elli, a middle-aged stone worker from Askola, and I have extra income as an entrepreneur for EarlyBird. I have been working with stone for 16 years. Personally, I think my crowning achievement was Helsinki Musiikkitalo. I was recently working on its concrete slabs and wall stones 70 hours a week. I am really proud of what I do and my professional skills and I could never have thought that any other work could be anything more than a way to earn a little money.
This was the background when Elli started making inquiries about making some extra money with early delivery of papers, just to earn some more cash. The EarlyBird model struck her as good because it allowed her to work more freely in addition to other work. She was thinking of filling in and standing by on the weekday so that she would have had the weekends off. However, Elli ended up with deliveries especially at the weekends and on designated circuits.
I was pretty sure that I would not continue after the four-week probation but, after all, the job was perfect for me even if those standby jobs in the weekdays have been coming almost every week.
How delivery work would suit you,
as a way to earn extra money or as your principal income as an entrepreneur.
You can also decide for yourself whether you do designated circuits and fill-ins.
Originally, Elli had set up a business for trailer rentals, but now that the income was increasing she was already working as any entrepreneur.
Money has been coming in. The downside is that it more is coming in than I had been planning.
EarlyBird – the delivery person can have an impact on how much he or she makes, and you can work as much as you want. When you hit income limits, it is time to take care of the statutory payments, such as the YEL insurance for entrepreneurs.
DELIVERY WORK INVOLVES MUCH MORE THAN JUST MONEY.
This turned out to be insanely interesting and addictive, anything but boring dropping of papers in mail boxes and slots. On the one hand, the work is so simple that you can check your brains in at the door and just keep working, but on the other hand you have to keep concentrating so that you can't really think about anything else while working. Very therapeutic and, for me personally, it has been more valuable than gold.
Read more about the distributor´s work
EarlyBird – A NORMAL WORKDAY FOR ELLI
On Saturday, the alarm clock went goes off at 11:30 p.m.
At this point, I will have been sleeping for 1 to 3 hours, which is quite surprisingly plenty for a night's exertion. The coffee maker on, morning chores, a cup of coffee, the dog under my arm and back to bed to wait for confirmation that the papers have arrived at the pick-up point. Usually, the text message arrives within an hour and I have no time to nap.
At 20 minutes past midnight, there is a confirmation that the night's papers have arrived. They can be loaded within half an hour.
We get in the car with the dog and head for Mäntsälä. It takes 20 minutes to reach the destination and another 20 minutes to load the papers. We have a chat at the pick-up box but nothing major.

At 1:10 a.m., the car has been loaded and the work can begin.
The papers for the first circuit are in nice order in the "office". Helsingin Sanomat on the front bench, the ESS in the leg room and "small papers" on the dashboard. The second circuit is waiting in the trunk.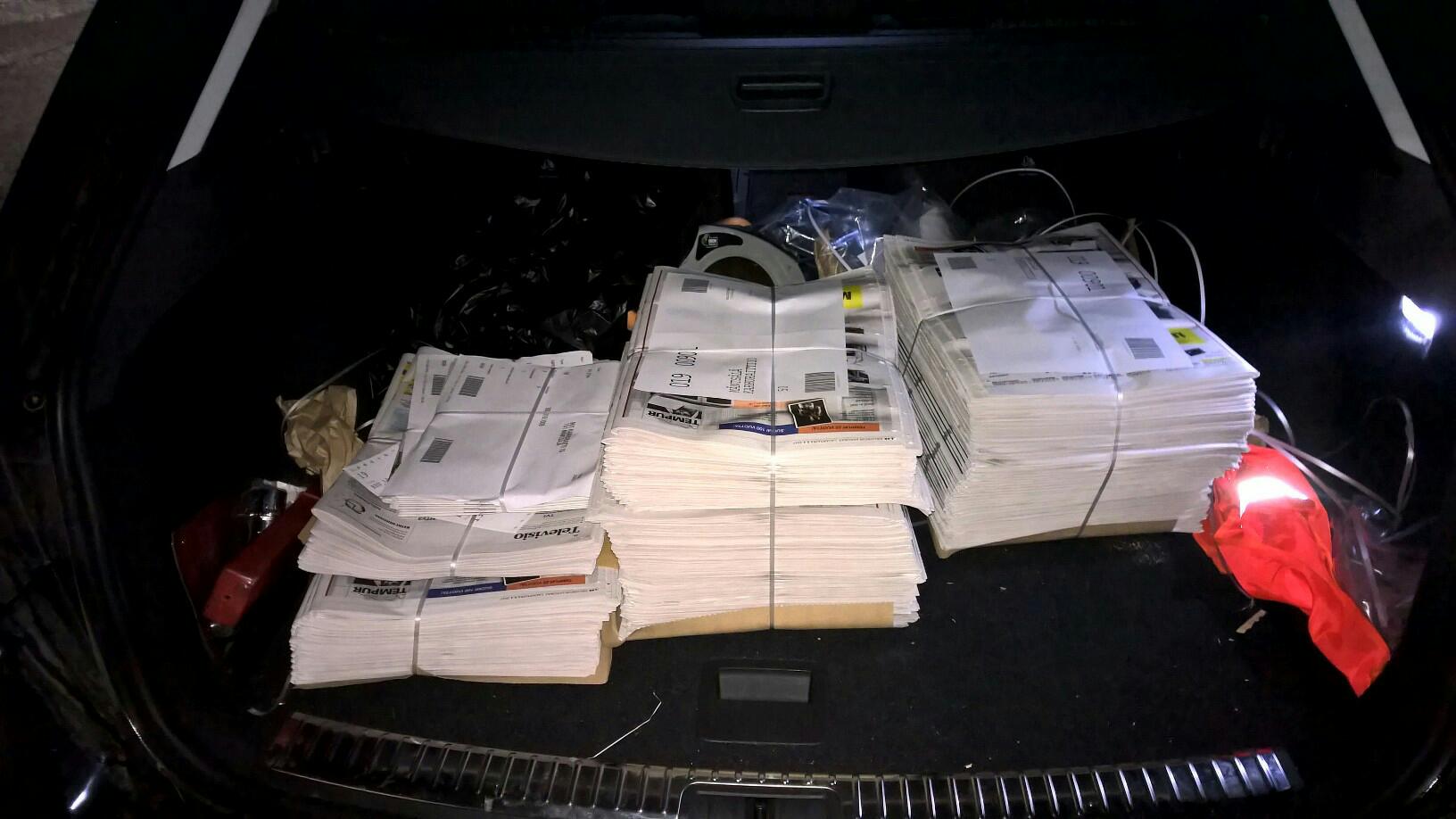 This time, the load is small. Two circuits to do, the Sunday's Helsingin Sanomat is thick but a small number of other papers are also delivered.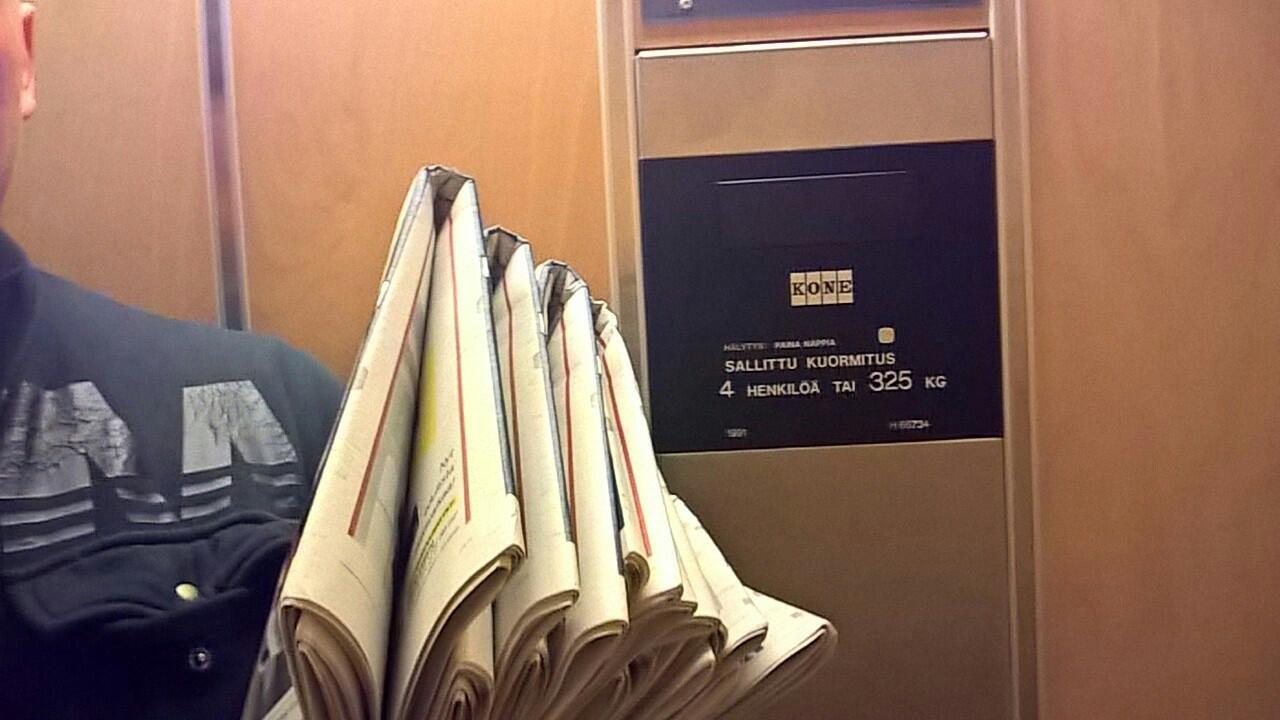 At 1:15 am, early on in the circuit, there are a few clean-looking apartment complexes, which have been equipped luxuriously with an elevator.
When there is an elevator, the majority of delivery people must take the elevator all the way up and go down the stairs while delivering the papers. The delivery requires focus, and the papers need to be put only into the mail slots indicated in the delivery book.
Since it is night, you should make no noise in the staircase, so when it is cold I wear Kuoma winter footwear and when it is not so cold I wear trainers, which is not much help when the slots keep clinking like church bells.
At 2:15, the apartment complexes and the nearby townhouse neighborhood is complete and next it is the turn for some detached houses.
Easy job, no other traffic and shuttling from one box to another is problem-free.
At 2:30 a.m., the first circuit begins to come to a close. Ahead, there is an undecided rabbit that doesn't seem to know which apple-tree shoots it should eat.
At this time, most of the encounters are with rabbits and occasional motorized quadricycle drivers. At 5 a.m. on Sundays, there are generally no pedestrians; at around 5, the earliest dog walkers appear.
At 3:05 a.m., the first district is complete, and it is time to make the papers for the following district handy.
The first circuits end at the Library of Mäntsälä and it is good to catch one's breath in the yard before continuing. I also listen to a blackbird sing.
IN DELIVERY WORK, THE HOUSES AND LANDSCAPES KEEP CHANGING.
ON ONE CIRCUIT YOU CLIMB STAIRS,
ON ANOTHER YOU DELIVER DIRECTLY INTO THE MAIL BOXES FROM THE CAR,
IN SOME OTHERS YOU DO BOTH.
It's 3:15 a.m., time to go on to another circuit. At the beginning of the circuit, there are some apartment complexes again.
The same neighbourhood has incredibly diverse houses. In some, the stairwells are bleak, the locks in the ground-floor doors are wretched and there are no elevators. In others, even the stairwells are comfier than my home.
All the staircases are entered, with paper stacks, keys and delivery books.
At 4:10 a.m., deliveries are finished in the apartment complexes and it is time for a bunch of townhouses. Tonight, nothing at all happens in this circuit.
Normally, you inevitably bump into someone here every night. Once, I saved an elderly lady from having to take a few more steps to the mail boxes by giving her the paper when she was still close to the doorstep.
All the other people I have met at night have also been quite friendly to me. Obviously, some people feel sympathetic towards someone crazy enough to work in the wee hours of the morning.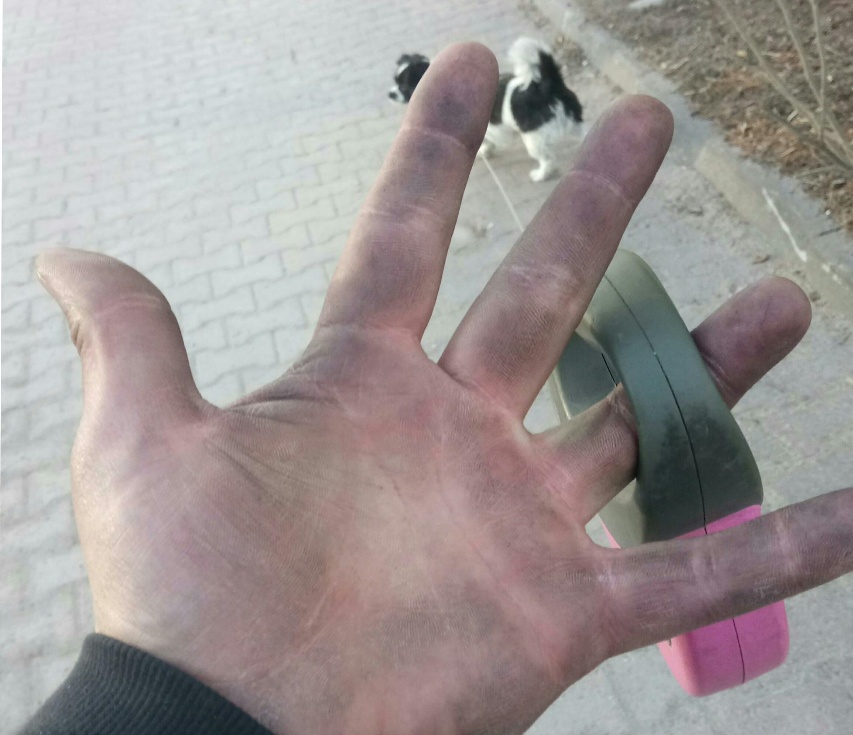 It is 5:02 a.m., the papers in the other district are done too. After returning the keys, it's time to get a coffee.
Driving 25 km under these circumstances without stimulants can be risky. First, you should wash your hands, black-handedness makes an inexperienced deliverer stand out.
ONCE THE DAY'S PAPERS HAVE BEEN DELIVERED,
YOU HAVE THE REST OF THE DAY OFF TO DO WHATEVER YOU WANT.
After the delivery, an exhausted deliverer and a frisky dog return home. After a normal weekend circuit, you have the rest of the day off.
All in all, the work is incredibly rewarding at least for someone who does it only a couple of nights a week. The switch from a day work rhythm to weekend night rhythm is pretty painless and, on Sunday, I have more than 24 hours left before the workday routine starts again.
I daresay that the work is more exciting than the majority of run-of-the-mill jobs where the days follow each other in infinite profusion.
ATTRACTIVELY FREE AND INDEPENDENT WORK, INTERESTED?